YOUNG RINPOCHE'S
Reincarnations of HIGH LAMAS
One of my youngest friends at KOPAN – everybody's darling is this completely adorable five year old lama. His name is a mouthful – Lobasang Palmo Nawang Rinjen Gyatso – but everybody calls him Rinpoche.
My young friend was given this honorific because he has been officially recognized as the reincarnation of the old Charuk Lama, a famous lama also from the holy Solu Khumbu region of the Himalayas. Young Charuk Lama speaks four languages fluently – Tibetan, Nepali, Sherpa and English.
Click here for the Charuk Lama's page. (Full of stunning pictures.)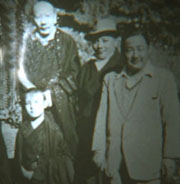 Above: HH. Ling Rinpoche, senior tutor of the Dalai Lama shown with the young Lama Zopa and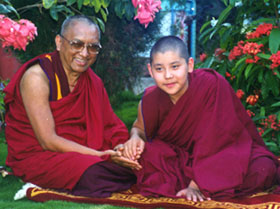 Above: The reincarnated young Ling Rinpoche photographed with Lama Zopa Rinpoche in mid 1998 at Sera Monastery.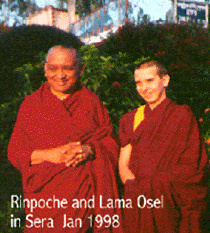 With Lama Osel Rinpoche, the reincarnation of Rinpoche's teacher and mentor Lama Yeshe. Together lama Yeshe and Lama Zopa had founded the FPMT or Foundation for the Preservation of the Mahayana Tradition – an organization that today comprises over a hundred Buddhist Meditation centers and Monasteries around the world. When Lama Yeshe passed away, Lama Zopa Rinpoche took over as Spiritual Director of the FPMT and carried on the work the two lamas started in the seventies bringing Mahayana and Vajrayana teachings of Buddha to all the countries of the world. Lama Osel is presently studying at Sera Monastery in India.