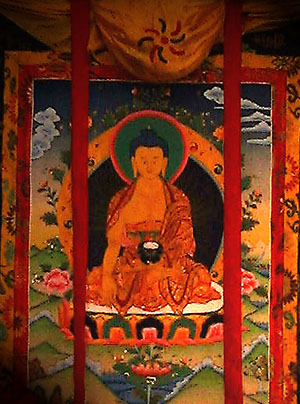 Preliminary contemplation:
Visualize Lord Buddha and think:
How lucky I am to be alive this morning, that death did not occur last night. How lucky I am to have my perfect human body; how lucky I am to have met Rinpoche, my most precious guru who reveals to me the un-mistaken path to enlightenment; how lucky I am to have met the Buddhadharma; I should not waste my life.
The purpose of my life is to free all sentient beings from suffering and its causes, and to lead them to liberation from samsara and to the state of peerless happiness - full and total enlightenment. This is my responsibility. To do so I must transform my mind, and I myself must actualize the path towards enlightenment.
Therefore … I must accumulate merit and do virtuous actions. I must avoid non virtuous actions so that all my actions become only causes for me to attain enlightenment, so that I can bring other sentient beings to enlightenment – as quickly as possible.
So … may ALL my actions be virtuous actions. May all my actions become cause for happiness and enlightenment. May all my actions bring happiness to all sentient beings. May all my actions bring enlightenment to all sentient beings.
May I practice the holy Dharma in accordance with the teachings of the Lam Rim, and in accordance with the advice of my precious holy lama.
THE PROSTRATION MANTRA:
Om Namo Manjushuriye, Namo Sushriye, Namo Uttama, Shriye Soha
Prostrate 3 times while reciting this mantra. This multiplies it 1000 times. Prostrations purify negative karma of the body. Verbally reciting mantras exalts the Buddha, purifying the negative karma of speech. The mental action of remembering the supreme power of the Buddha purifies the negative karma of the mind – thereby arousing faith. Then think:
Guru, founder having destroyed the two obscurations, being qualified by six qualities and having gone beyond samsara, Gone as it is; enemy destroyer, O complete and perfect Buddha, Glorious conqueror Shakyamuni, to You I prostrate and go for refuge, and make offerings.
Please grant me your blessings
OFFERINGS – Purifying Dharani ( set up as many offerings as you wish. Offerings can be 7 bowls of water, flowers, food, lights and incense. Bless each individually with OM AH HUNG .. then recite the offering mantra.)
OM NAMO BHAGAVATE, VAJRA SARWA PRAMARDINE TATHAGATAYA / ARHATE SAMYAK SAM BUDDHAYA / TAYATA OM VAJRE VAJRE MAHA VAJRE / MAHA TEJA VAJRE MAHA VIDYA VAJRE MAHA BODHICITTA VAJRE / MAHA BODHI MANDO PASAM KRAMANA VAJRE/ SARVA KARMA VARANA/ VISHO DANA VAJRE SOHA
The power of truth
By the power of truth of the 3 jewels, of the blessing of all the Buddhas and Bodhisattvas, of the great might of the completed two collections, and of the pure and inconceivable sphere of existence, may these offerings become such ness.
VISUALISATION
At the level of your forehead, 2 meters in front of you is a large golden throne. It is beautifully adorned with jewels, and supported at each corner by a pair of snow lions – signifying the fearlessness of the Buddhas.
On the throne is a lotus, signifying Buddha's holy mind and mind untainted by samsara's shortcomings. On the lotus are two disks – the sun and the moon. The sun signifies wisdom, the moon signifies method.
Together they signify the unification of no more learning. Buddha seated on them signifies achievement of this unification. The lotus, sun and moon also signifies the principal aspects of the path to enlightenment. Concentrate on this.
On the lotus, sun and moon is Shakyamuni Buddha who has attained perfect realizations. He manifests the omniscient mind of all the Buddhas, the ultimate guru and is therefore inseparable from your lama, your root guru who shows the un mistaken path and is bound by infinite compassion to you and to all sentient beings.
Buddha's body, in golden light, is magnificent. He wears the three robes of a monk. His face is beautiful. His eyes see all others and me. His gaze is peaceful. His mind is free of all critical thoughts. He accepts you fully.
His right hand touches the earth (signifying control over the maras of desire)
His left hand holds a bowl of nectar (signifying conquest of samsaric aggregates)
His body is in vajra posture (signifying He has destroyed death and his own 4 maras)
He is surrounded by light beams (signifying compassionately working for sentient beings)
The supreme Refuge, Shakyamuni Buddha encompasses Guru, Buddha, Dharma and Sangha. From His holy body, beams emit in all ten directions and numberless manifestations of Buddha are carried through each beam to ripen infinite sentient beings. Recite three times
I go for refuge to the Guru triple gem; to the Buddha fully enlightened one;
the Dharma the scriptures, and the Sangha.
Then Recite 108 times (known as one mala) the Refuge mantra.
NAMO GURU - BEH, NAMO BUDDHA - YA, NAMO DHARMA - YA, NAMO SANGHA - YA.
VISUALISATION OF THE REFUGE PRAYER
Reciting the Refuge prayer pleases Buddha.
Nectar flows down from His holy body and enters your body and mind. The nectar cleanses all negativities, obscurations and diseases, and purifies negativities accumulated in your relationship with your Guru. The nectar develops positive realizations and blessings from the guru. The nectar brings you under the guidance of the Guru triple gem.
RECITE once THE FOUR IMMEASURABLES
May all sentient beings abide in equanimity, free of anger and attachment .
May all sentient beings have happiness and the causes of happiness
May all sentient beings be free of sufferings and the causes of suffering.
May all sentient beings never be separated from the happiness of higher rebirths.
Recite once the THE PRAYER OF SEVEN LIMBS
Reverently I prostrate with my body speech and mind
And present clouds of every type of offering, actual and mentally transformed.
I confess all my negative actions accumulated since beginning less time.
And rejoice in the virtues of all holy and ordinary beings.
Please remain until samsara ends
And turn the wheel of dharma for all sentient beings.
I dedicate all the virtues of myself and others
to the great enlightenment.
MANDALA OFFERING
Visualize the entire Universe and all the offerings. Visualize clearly and visualize many Mandala Offerings of the highest, richest quality – as many as possible filling the whole sky. Then say softly:
This ground anointed with perfume, and strewn with flowers. In the center is Mount Meru, the four
continents, the sun and the moon. I imagine this as
a Buddha land and offer it. May all sentient beings
enjoy this pure land. Then say: IDAM GURU RATNA MANDALAKAM NIRYA TAYAMI
DEDICATIONS
After your meditation and prayers, focus your mind on attaining Enlightenment for the sake of all sentient beings. The dedicate the merit gained from these prayers and meditations by reciting thus: By the positive potential thus created may I attain Enlightenment for the sake of all sentient beings. May the Bodhicitta mind in me not yet born, arise and grow. May that born have no decline but increase forever more.
Personal Note from Lillian Too:
You can add further dedications depending on what you wish to pray for. I have found that prayers that are dedicated to others have greater power and merit than prayers devoted to oneself.
I have also discovered that it is vital to make dedications and also that it is perfectly fine to make your Dedications as long as you wish. Thus you can dedicate your prayers:
To someone who is ill,
To world peace, and to eliminate sufferings and famine,
To the good health and well being of your family, or if you have a guru, it is very full of merit to dedicate your prayers to the long life and continued good health of your guru.
The most important dedications are to prayer for Liberation from Samsara and for Enlightenment for the sake of all sentient beings.