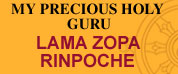 THE SANGHA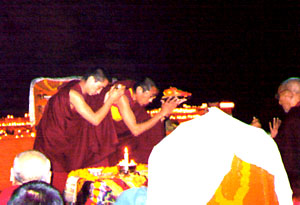 Above: I love the rituals associated with the practice of Buddhism. The making of the offerings during pujas is especially inspiring and moving. Here we see that part of the puja when offerings are made to the high lamas just before the TSOG offering to the congregation.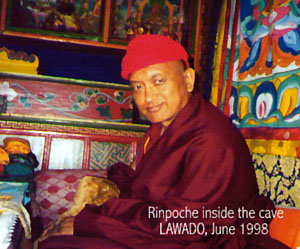 Above: Lama Zopa Rinpoche inside the Lawado Cave which is now decorated with colourful thangkas.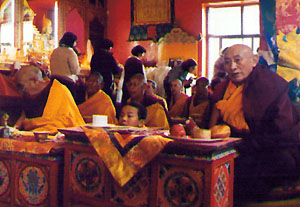 Above: Senior monks at a prayer session in Kopan Monastery. In the center is young Cheruk Lama.

Above: Lama Zopa Rinpoche with Roger Kunsang

Above: Rinpoche with Roger Kunsang. In my mind, Roger is a Bodhisattva, because he takes such excellent care of our precious guru. I have never seen Roger succumb to any kind of pressure or lose his cool. And I have to say that Roger has taught me so much dharma and has helped me enormously in my practice.

Above: With Tenzin Zopa on the way to Lawado, June 1998. Tenzin Zopa was Rinpoche's second attendant for a while and I got to know him really well because he used to translate all the Tibetan conversation to us. Tenzin Zopa spoke perfect English and is presently studying at Sera Monsatery in South India for his Geshe degree. I often think Tenzin Zopa must have been my brother in a past lifetime.



Above:Believe it or not, this is Tenzin Zopa dancing a Tibetan dance.