ON PILGRIMAGE in India with the Holy Lama
In January of 1998 Lama Zopa Rinpoche and His holy Guru, Ven Ribur Rinpoche led a hundred and fifty monks, nuns and students on a 16 day Pilgrimage of holy places in India. I was one of the lucky ones on that fantastic journey which brought so much of the Holy Buddha's teachings to life for us.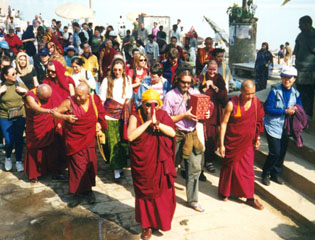 Above: At the River Ganges where we did Animal Liberation
We visited VARANASI where Buddha Shakyamuni taught his first sermon after attaining Enlightenment at DEER PARK, and we attended a PUJA conducted by the Lamas at SARNATH. It was here that the Buddha took His first sip of milk after having fasted and realizing the ascetic life did not hold the answers He sought. At the temple adjacent to DEER PARK we were so blessed as we had the opportunity of viewing the Lord Buddha's relic – reverently preserved in a beautiful temple.
Then the Lamas took us to the GANGA RIVER to participate in the Practice of animal liberation. It was an experience of a lifetime releasing all those fishes back into the river. Rinpoche explained that this Practice was so beneficial since it would create the cause for a good rebirth and ultimately Enlightenment.
We traveled by third class train from VARANASI to GAYA – a journey of 7 hours. I never felt so thankful for my good karma as when I was on that difficult and uncomfortable train journey. It brought home to us how lucky we were and I felt it was a Purification of sorts … Everyone with me on that train were well heeled people whose good karma ensured we had a good life with the opportunity to practice Dharma and make our life meaningful. It was a profound learning experience. My travel companions on that train ? Real lucky people I tell you . There was a Banker multi millionaire from Singapore. A wealthy lawyer from Hong Kong. A successful Interior decorator and there was even a famous Hollywood movie star – everyone of us was so blessed to be on the Pilgrimage we never noticed the dirt and the squalor or the crowded conditions of the train.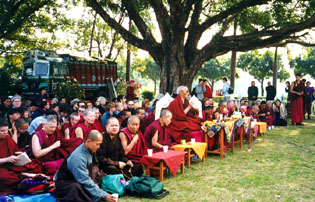 Above: On the grounds of Nalanda we held a Puja and experienced the miracle of multiplying food parcels.
The Pilgrimage continued with a visit to the famous NALANDA University where so many Buddhist scholars studied, and then on to VULTURES PEAK where the Lord Buddha had given the sermon of the PERFECTION OF WISDOM. At the top of VULTURES PEAK, HH Ribur Rinpoche led a Puja and the skies opened on that grey day and the sun shone brilliantly down on us sending forth light that resembled a flow of nectar blessing us all. It was stunning and I have captured it on film too …
At NALANDA earlier in the morning we had also had a PUJA and there too we saw the miracle of the food packets. They had asked us to share the food parcels. There was not enough to go round the organizers told us .. and yet by the end of the PUJA everyone had their own box of food with a whole lot left over ! .. and the lamas seemed oblivious to it. These Lamas are so wonderful. They create miracles and then pretend they don't know anything about it .. !!
The Pilgrimage culminated in a series of teachings given by HH Dalai Lama at Bodhgaya. Anyone who has ever heard His Holiness teachings will know how special the experience can be..