Lillian Too's Master Practitioners Course in Feng Shui, June 2006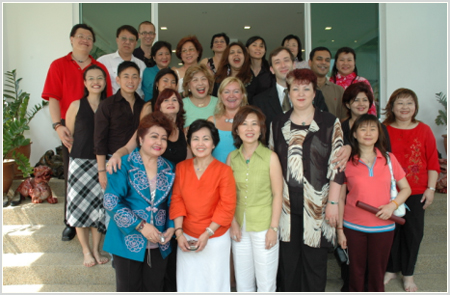 Class photo at Graduation Lunch, held at Residence of Lillian on Day 6


Students from around the world including countries such as Romania, Venezuela, Qatar and the Unites States attended the recent Master Practitioners Course in Feng Shui on 5th June. The students came from many professions ranging from investment bankers to systems engineers - all putting aside busy schedules to learn feng shui from Lillian Too. They loved the daily lectures and discussion sessions as well as Lillian's many stories. Students were also taught how to make a wealth vase. As a final test for graduation, students formed groups to perform comprehensive consultations for a sample home. First prize winners were Group D students Ivan Lim, Siddharth Banerjee, May Ong, Laura Wong and Siew Yun. Mr Wong.

Making of Wealth Vase on Day 3 afternoon


Site Visit for Case Study Assignment on Day 5 morning




Winners of Case Study Competition
1st Prize goes to Group D
Ivan Lim, Siddharth Banerjee, May Ong, Laura Wong & Siew Yun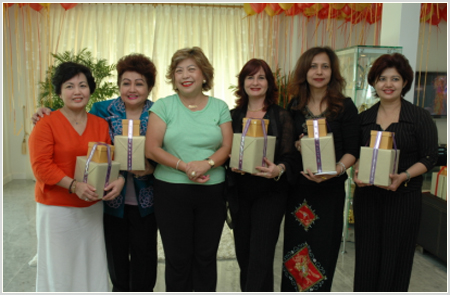 2nd Prize goes to Group A
Liesda Howell, Ernie Djohan, Belkis Duarte D Aranguren, Maya Ramchand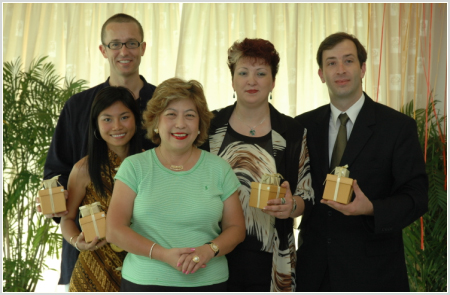 3rd Prize goes to Group E
Nattinee Laing, Edward Laing, Reit Dan & Reit Coca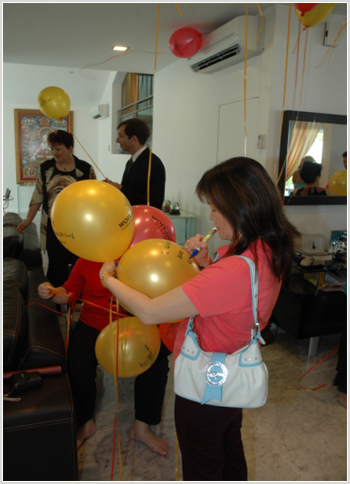 Irene Tay writing wishes on balloons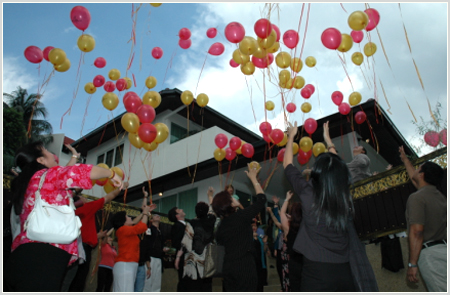 Releasing of Balloon



Feedbacks from some students

Reit Dan & Reit Coca, Romania
Beautiful country, perfect timing and organization, very profound skills and Lillian Too is able to share the knowledge with us. It's a little bit costly and far for us to travel from Romania but we would like to attend any course at WOFS. It was an unforgettable experience! Keep up the good work. Thank you!

Belkis Duarte D Aranguren, Venuzuela
This is my 3rd seminar with Lillian Too! I practiced feng shui in my country before coming here and it works. I am happy to see Lillian Too! I am sure her feng shui is good! I prosper much more now than before. God bless Lillian!

Liesda Howell, Qatar
This is my 2nd seminar with Lillian. 1st one in LA on Feb 25th & 26th 2006. I really enjoyed the class and have learned a lot. Lillian is a very dynamic person! Hopefully I can apply it better. I've attended some other seminars with others, but Lillian is the best! Would like to keep in touch and attend more of Lillian's classes in the future. Thank you so much!

Laura Wong, Brunei
Initially, I just joined my friends for the course. Immediately, after the first day's class, I opened up my mind. Something clicked! Now I am more conscious about everything around me; where I stay, where I sleep, and if there are any poison arrows pointing towards me.

Lillian Too is a marvelous teacher with her extraordinary way of teaching. All the staff are helpful making us feel at home. Special thanks to Lillian, Stanley and Connie for guiding us throughout this whole week. Keep up the good work!

May Ong, Singapore
I've learnt a lot from this MPC. But besides learning about feng shui, I also learnt about life from Lillian. She teaches me how to see life in a different way. How one can improve life and more importantly, how to enjoy life! Thank you Lillian!

Irene Tay, Malaysia
I have gained so much more confidence after attending this course. I will make full use of this valuable knowledge to apply in my business as well as for my house!