Once again Lillian Too's highly popular Masters Practitioner's Class (MPC April 2011) has attracted a full class of students from 19 different countries, including Australia, Spain, India, Indonesia, Japan, Kuwait, Lebanon, Malaysia, Mauritius, Mozambique, Oman, Phillipines, Qatar, Trinidad, Romania, Singapore, Thailand, Turkey and the USA!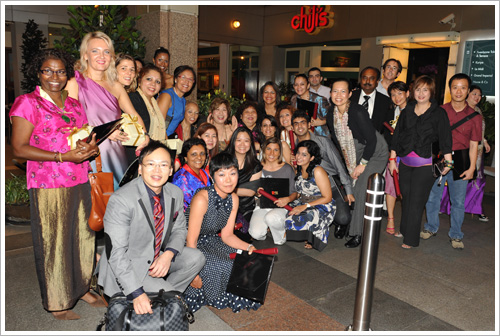 Group Photo of MPC April 2011


Lillian teaches from her mind and her heart – and engages her students at all aspects of the practice. She teaches not just the deep feng shui formulas and the fine nuances of developing this living skill - but she also shares with her students the most vital principles of living a life with good feng shui – which is to practice it with the right attitude, the right motivation and with great confidence. Although many of her students came prepared by reading up all her books ahead of time, many were pleased to discover an even greater wealth of knowledge revealed by Lillian as she shared her most intimate life stories and how feng shui played a pivoting role in manifesting success in her life!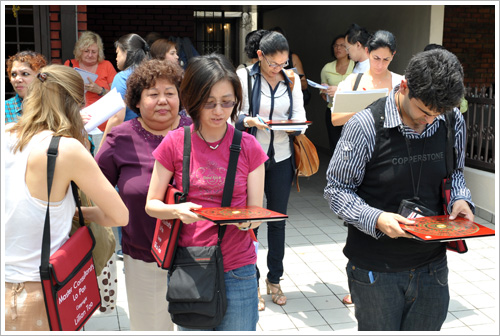 As with each MPC course, the students were taken to several site visits to develop hands-on practical experience of how feng shui is applied to different kinds of building structures. The course ended in an "exam case study" where students were taken to a property and asked to evaluateand then provide renovation recommendations using feng shui formulas learnt throughout the course! Prizes were awarded to three winning groups for correctly applying all the formulas of feng shui covered in class.

Winners of Group Case Study: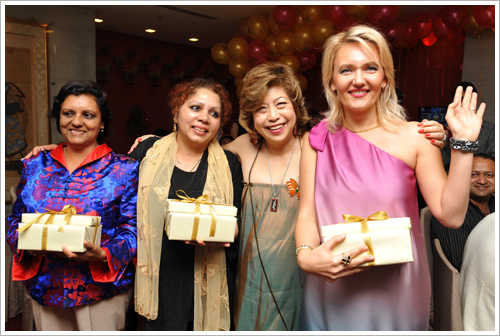 1st Prize - Group E
Sharda (India), Vandana Kannan (India), Natalia Izmaylova (Kuwait)
& Wing-Sie Cheng (Singapore)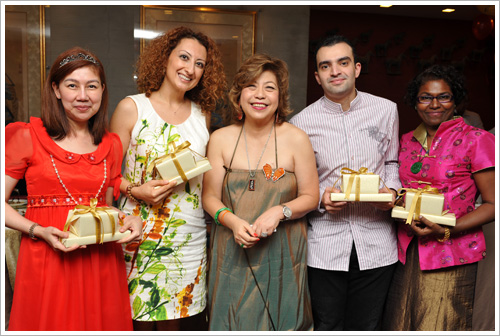 2nd Prize - Group F
Mary Jane (Japan), Irem Karagozoglu (Turkey), Samer (India) & Swarupha (India)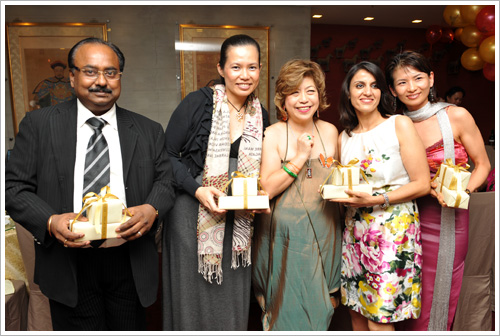 3rd Prize - Group B
S Roy Chaudhury (India), Carol Tai (Trinidad), Kavneet Aggarwal (India)
& Ong Hooi Lin (Malaysia)
The course finished with in a beautiful Graduation Ceremony at high-end Chinese restaurant in town, and everyone celebrated the end of the evening by releasing their wishes to the Sky Dragons!
Would you like to meet Lillian and attend one of her Courses?
Just email courses@wofs.com to receive information on her next MPC class.
Feedbacks from Students
Kana Sato, Japan
After returning to Japan, I'm still in a happy and exciting mood.. and I miss you all! I had very happy time with you, and I gained so much from Lillian. Many stories she told us were not only about feng shui, sometimes more than feng shui. I'll never forget this experience. It's changing my life. I'll never forget your hospitality. Even after office hours you helped us so much. I also thank people in Kuala Lumpur. Even at the Gardens Hotel, all staff were so friendly - I am greeted in Japanese at the breakfast every morning and the staff even remembered my name! The people here in Malaysia gave me so much sweet smiles. I was so touched and could feel at home. I'll be back to Kuala Lumpur to see you and join the advanced course, MCC in October!
Zan, Malaysia
I like all the subjects taught in this class very much! All were taught by the world famous, feng shui guru Lillian Too herself! I also liked the fact that it was very simple to comprehend and all basic aspects were covered. This course is very crucial to the practice of feng shui, one would need a solid foundation in the basic principles of feng shui formulas and this course satisfies all that. Lillian was very to the point, illustrating the subject taught with her work experiences and various examples.
Miguel J De Puigdorfila, USA
Lillian's approach makes her a very unique expert, very balanced between physical and spiritual elements. The site visits to the homes and evaluation is great! We will definitely recommend this course to our friends!
Ivonne Lassalle, USA
Lillian's approach makes her a very unique expert, very balanced between physical and spiritual elements. The site visits to the homes and evaluation is great! We will definitely recommend this course to our friends!.
Ong Hooi Lin, Malaysia
This course is amazing - with so much information expertly presented to us in a well-structured program. It contains a very essential and comprehensive knowledge of Feng Shui, yet it is concise, precise, practical and inspiring. This course is the "door opener" to the Feng Shui world, the first move to unmask the mystery world of Feng Shui. Lillian is brilliant, systematic and practical, she is able to turn a complicated topics into a lively and comprehensive subject.
Crystal Lavone, Kuwait
The subjects taught were very information and detailed. I am now able to utilize the Feng Shui knowledge from Lillian Too and all her supporting staff. It provided me the knowledge and resources to have more confidence to pursue Feng Shui as a career and business venture. I gained so much more knowledge and understanding and made the information in the many books I have from Lillian Too to enhance my library of resources. She provided the information to become a successful Feng Shui Consultant and the means to advance to more levels. I did not expect the information and the hands-on experience from the course! I gained much knowledge to be able to practice Feng Shui with more confidence. The accessibility of the products at the office and assistance from all the staff is great!
Rina Kartasasmita, Indonesia
I like the atmosphere of class (because students come from around the world) and I like the way Lillian teaches us. Such a heavy material and yet smooth and interesting like a story teller. She is so knowledgeable, it makes us feel lucky to have such an ope- minded teacher like her. Now when I get back to my country I feel like I really know how to do a feng shui audit (the sequence and detail). Lillian also teaches us how to do business with feng shui. She is very direct and systematic, and she has a really good curriculum. As for the facility of the courses and hotel – I was really satisfied with that, nothing to complain, especially the WOFS office and hotel was located very close to each other.
Denise Sultane, Mozambique
I love the teachings given by Lillian, special all those things that you don't find in the books. The way that the classes were structured, helped to integrate the knowledge. Without this course, you will not be able to practice Feng Shui to your fullest potential. Lillian is perfect; she is a real MASTER on the subject! I would like to congratulate all the supporting staff that helped us during the course - all of them were friendly and very loving and caring regarding any matter. Please continue doing this good work!