Best Feng Shui in Town

The Edge
8th October 2007



I tell you ah, Mid Valley as a city has the best feng shui in town," Lillian Too proclaims. Malaysia's undisputed queen of feng shui isn't saying this because IGB Corp's managing director Robert Tan is at the table with her. She says she was so convinced that she moved her office from Damansara to Northpoint Offices, the latest development in Mid Valley City.

Too already has a successful retail outlet in Mid Valley Megamall, so when she heard about office space opening up in Northpoint, she knew she had to move in.

So, she called up people she knew who knew Tan - "In KL, it's who you know, isn't it?" she smiles - to organise a meeting. A friendship was forged, especially when they both realised they had much in common. "You know, I had to beg him to give me a space here," she laughs.

They may not have met then, but Tan had heard of Too. Although he doesn't admit to being a big believer in feng shui he credits his limited knowledge to a book authored by her. So, when she came knocking on his door, he was only too glad to have her.

Too was only too pleased to explain to us what it was about Mid Valley's feng shui that made it so successful.

"You see, we're in a period of eight now. Anything that was built before 2004 is considered period of seven. Since The Gardens is yet to be completed. It's considered to be a period of eight buildings," she says. The period of eight is one part of a 180-year cycle in the feng shui calendar.

Its orientation, facing the northwest direction, is said to be an axis of the period of eight. Hence, any building facing northeast is considered to have very good feng shui - the very direction Mid Valley Megamall and The Gardens are facing. The Klang River, which courses through one part of the Mid Vallery are, is what Too calls a Jade belt, which is also very auspicious.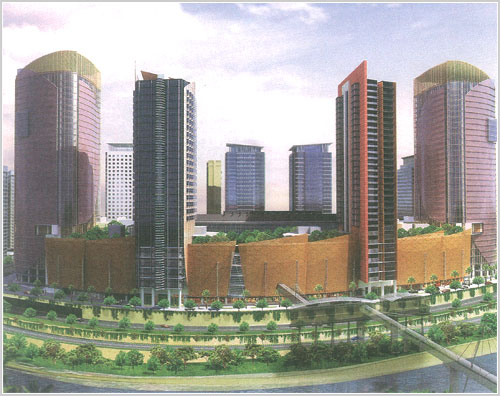 "Also, I don't know if he did this on purpose, or he's clever, or if it's his good luck, but the traffic goes around Mid Valley and The Gardens. That alone is truly excellent feng shui," Too points out. "There are a lot of feeder roads leading into this area, plus they go to the car park unseen, which is also good! And because the traffic flow is anti-clockwise, it makes the feng shui even better. It captures the luck of heaven".
When we admit that we had found it a little difficult to find Tan's office and had missed the water features in the lobby area that Too referred to, she becomes excited again. "Good luck meanders, slows down, and drops gold along the way. Bad luck needs a straight path. So, because it was a meandering path to get here, I tell you it's fabulous," she says, thumping the table for impact.
"I know all this is not because Robert asked me to do it; he's too kiam siap [stingy in Hokkien] for that," Too says, drawing smiles of amusement from everyone present, Tan Included "I genuinely believe there is much positive feng shui energy here ".