Feng Shui Expert Lillian Too At Home

Hello!
September 2007

Interview by Sophia Goh
Photos by Andy Kho


To the devotees of Feng Shui, the name Lillian Too rings a familiar bell. As one of the most prominent faces of the Chinese practice, both locally and internationally, Lillian is considered a leading authority on the subject and has had her books translated into multiple languages and sold in numerous countries around the globe. She also conducts seminars and courses, and alongside daughters Jennifer, founded the World of Feng Shui merchandising chain.

So imagine our excitement when Lillian agreed to open up her home to HELLO! Malaysia. We are the first "outside" magazine she has allowed to photograph her home, she tells us, and even though her house has been featured in her own Feng Shui magazine before, it is the first time people will be seeing it since its recent renovations.

"I'm always renovating my house," Lillian admitted. "There are workmen here all the time. And every year, I change all the furniture around.'' She is clearly very proud of her Pantai Hills residence, which she has lived in since the 1970s. It has seen her through many stages of her life, including the birth of Jennifer and the years she spent working in Hong Kong as she climbed the corporate ladder to become the first Asian female CEO of a bank. When she eventually went into early retirement to become a full-time wife and mother, her beloved home was waiting.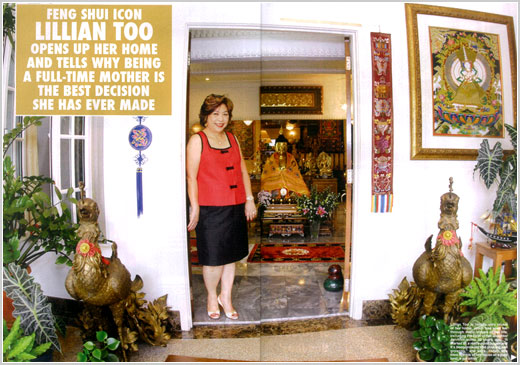 As you enter through the main entrance, the first thing you see is a life-size golden statue of Buddha. It sits right in the middle of the hallway, and serves to pre-empt what is to come, for Lillian's house is simply filled with Buddha statues. "I like to call this my house of 10,000 Buddhas," she says. She has statues everywhere, covering every inch of wall-to-wall altars, shelves and some tables. Even the door arches are lined with rows of tiny Buddha statues that have been painstakingly made from plaster of Paris, spray- painted white, and stuck along the edges of the ceilings and arches.
"I love Buddha statues," she confirms. "I don't collect them. All my statues are not put there for decoration. They are put there so I can make offerings to them. Light offerings, water offerings, flower offerings... that's how you should do it if you want to put holy objects."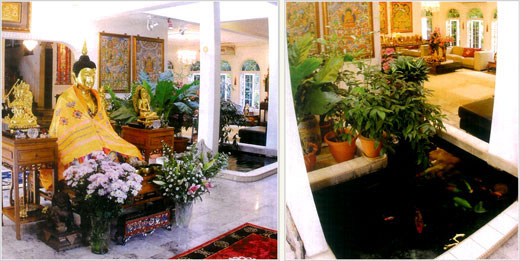 Feng Shui items, however, are different. "A lot of the Feng Shui objects are symbolic items. They have different meanings, and they bring good luck or good health," she explains. "They either protect the house, or they attract opportunities and wealth. ''
You've got so much detail in your house. Did you personally design everything?
Lillian Too: Every single corner. Every square inch of this beloved house. This house is over 30 years old. It started as a really small house and it's been growing and growing and growing. I've had this house since even before Jennifer was born. But if you look at it, it's still very new. The energy is very fresh. The energy of your home is very important. You can feel it. I have a lot of things in here but it doesn't feel cluttered.
Do you keep track of all your statues?
LT: Actually, I have friends from auction houses who have offered to catalogue everything I haver but the time is not right yet. I personally have a record of every single item in the house. Everything I have came to me with a story. For example, I have a Buddha statue that is about 600 years old and I've had it for about 25 years.
Where do you obtain all these pieces?
LT: From all over the world. A lot of them are gifts given to me by old friends and by my Buddhist llama many are from grateful friends, clients and customers, and others I pick up on my travels. Every piece in the house - the Buddhist pieces and also the Feng Shui pieces - has a story about how I found it.
I'm an old lady and I think it's very meaningful because I love everything in my house. Not everything here is expensive; I don't even put a monetary value on some of them because that's riot important. What's important is if you look at some of the exquisite pieces, the workmanship is great and the love that has gone into making them is amazing.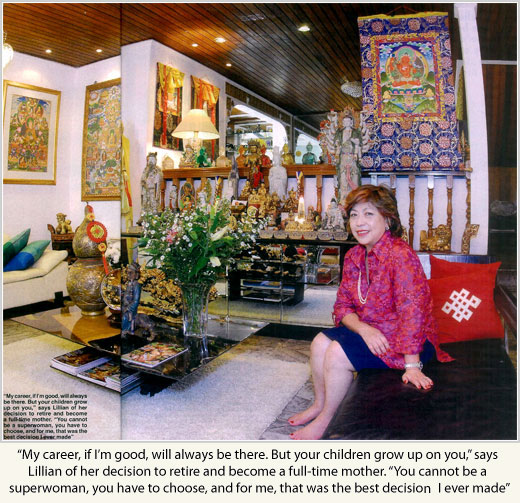 You're obviously a very staunch follower of Buddhism. How does that tie in with your Feng Shui?
LT: My profession is to teach and popularize Feng Shui. It is something that gives me a lot of joy and satisfaction, and I am fascinated by it and I do a lot of research into it. But I have a life as well. There is much more to Lillian Too than Feng Shui, I wish people would remember that [laughs] .
I am a Buddhist by religion and I love the philosophy of Buddhism. It advocates that you should live your life and make it meaningful, that you should help other people, and you don't have to make a big publicity drive out of it. Being able to benefit people makes me very happy.
I am the president of a Buddhist meditation centre. We do a lot of community projects, and I also organist pilgrimages to Tibet, Kathmandu and india. So that's my way of living my spiritual life. There are a lot of holy objects in this house but I don't want it to look like a temple. I like it to look very beautiful, like a pure land. I like to think of my house as a pure lands a paradise. And I'm very lucky because my husband and my daughter love it as well. I think that's the most important thing.
So who is the real Lillian Too?
LT: There are many aspects to me, as there would be to anybody who has lived as long as I have. When you're young and just starting out, you want to do your own thing, like my daughter. She's bringing up her son and really enjoying life as a mother. It just moves me to bits when I see her loving her son so much. And then I see her running the company and I'm so proud of her, and so you go through all these stages.
You're a mother first, and then of course I was a career woman, then a businesswoman. And now in my old age I like to think of myself as being able to help a lot of people. I have a lot of followers, and it makes me really happy. I was late [for the interview] because I was answering tons of emails. It's great because it takes so little for me to make someone else happy. All I have to do is take pictures with them, for example. That makes me feel good, to be able, at my age, to be so useful and so needed.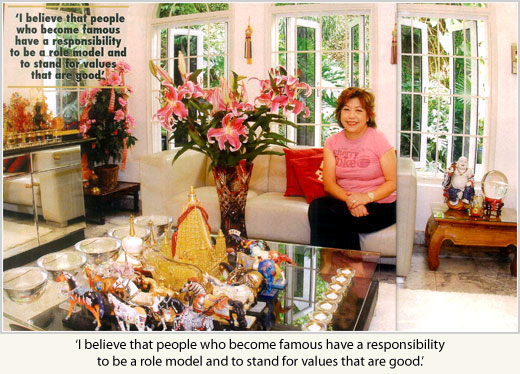 Tell us about your family.
LT: I have a very small family, but it's a wonderful family. I have a husband, Mr. Too Wan Jin, who is very handsome. I like his handsome looks; in fact, I married him for his looks [laughs] . He and I have been together for nearly 40 years. I am his first wife, he is my first husband, isn't that wonderful in this day and age?
I have a daughter, Jennifer, who is married to Chris. He loves her to bits and she loves him to bits, which to me is wonderful. They have a little son, my grandson, Jack. Then I have my mother who is still alive. She's 85 and living with me, and she has Alzheimer's. She's healthy and I do the best I can but it's terrible to see a woman suffering from Alzheimer's. I feel very helpless.
Then I have a nephew, who I love like my son. He is my brother's son but my brother passed away and I inherited him. He's also married with a son so leave another grandson. Then I have a niece, who is the daughter of the same brother, and she too has a son. Then there's my brother, Philip, who works in the company also. He's my youngest brother and he's unmarried. So that's my family.
How has Feng Shui and Buddhism influenced you as a mother and a wife?
LT: It's been fabulous, just fabulous. Of the two, I think religion is far more important, but Feng Shui helps you on the temporal, material side. In order for you to become healthy, Feng Shui is a very powerful method, a living skill, and I'm so glad that I have been instrumental in bringing this knowledge to the forefront globally.
If you use Feng Shui correctly, you can actually arrange your home in such a way that husband alewife become closer, and children and parents do not grow apart. When the family unit becomes closer, it makes life a little bit easier outside so if you're studying, you do better; when you look for a job, you can find one; when you're working, you're happier. It makes life so much easier.
As for Buddhism, it teaches you to be kind and to rejoice when other people are successful. For me, you don't have to call yourself a Buddhist. As long as you are kind and good-hearted, you are a wonderful person already. There's so much suffering in the world, but you can do something about it. Buddhism makes me a better person. I learn different ways to become a kinder and more useful person, and how to think about other people instead of just thinking about myself all the time.
You spent years working overseas. Did your family relocate to Hong Kong with you?
LT: No, no. I was commuting. Every two weeks I came home to Malaysia. All the money I made went to MAS in those days. Then I got tired so I retired and came home to be a full-time mother. And that was the best decision I ever made in my entire life - to get out of the corporate rat race. I said to myself, my daughter is going to grow up on me and in a few years' time that little girl will have disappeared and in her place there will be this big girl.
My career, if I'm good, will always be there. But your children grow up on you. So I made that decision. I think a lot of women, at some stage in their life, are confronted with this dilemma, whether to go for the top job and give up your life for your career, or to make the decision in favour of your child. I want to tell you and I want you to write this to all the corporate women out there - you cannot be a superhuman. You cannot do both. You have to decide. For me, I decided in favour of my daughter.
Is that a choice you would recommend to all women?
LT: Yes. And I can tell you that for me, it was the best decision I ever made.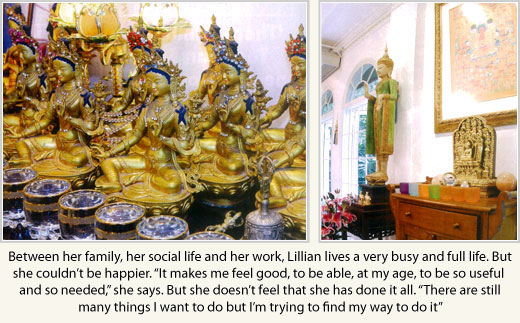 That's a very big statement...
LT: Yes. I don't even think it was a sacrifice, I think it was the only decision that I could have made. And I think that for all women, this is a very real dilemma. Do you want to spend time and be a full-time mother, or do you want to continue working and only be a part-time mother? Until my daughter was about 11, I was fooling myself. It took me 10 years to have this child, I said to myself, and what do I do when I have her? I leave her at home and spend my days and nights crunching numbers to make somebody else rich. Whatever for?
If you could get just one message out to people, what would it be?
LT: Be grateful for all the things that you have. Try to live your life meaningfully, not so much for yourself but for the people you love, and also for the people you do not love. Don't harm people, try to do good, I know it sounds very old- fashioned but it really works. Also, if you do your Feng Shui with a good heart, it works better. I promise you that.
For someone who has achieved so much success, do you see yourself as a role model for women?
LT: Yes, I think so. I think that I am reasonably famous, both here and overseas. And it always surprises me when people tell me my books are so popular in Russia and Uzbekistan and Poland... you know, countries I've never even been to.

But what is the use of being famous and clever if you don't make use of it? So I use it to set a good example. I believe that people who become famous have a responsibility to be a role model and to stand for values that are good. I am all for clean luring. I am very anti-drugs, anti- alcohol, anti-everything, but I don't think I'm old-fashioned, I think I'm just sensible. I feel very sorry for children who are so neglected that they go into drugs and booze.
I'm actually trying very hard to carve out a role for myself in this area. How can I help people turn away from drugs and alcohol? I'm still trying to think of an original way to do something. I don't quite know how to do it yet, but that's good because you mustn't reach a stage where you think, oh I've done it all. I haven't. There are still many things I want to do but I'm trying to find my way to do it. I want to do it in a way that's meaningful, and I don't want to do it to become famous or anything. No, I want to do it and be effective and not even have to say anything about it.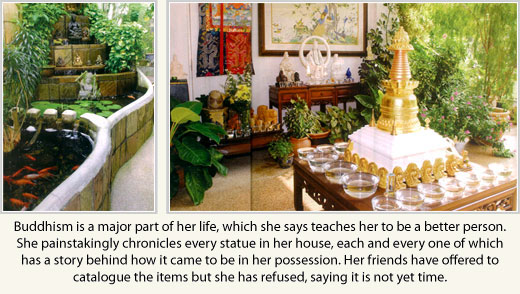 What about role models or heroes? Who are the people you look up to?
LT: I really, really, really admire Hilary Clinton. I know not everybody is going to agree with me, but I was privileged to watch her when she campaigned to become the senator of New York. I happened to be in New York at the time so I watched her on television and attended one of her meetings. And I just fell for her.
She is so strong and so good at what she does, and up close, she comes across genuine. She really is on this crusade to improve the world. I know she's a politician so of course, everybody has their two bits to say about her and not everybody likes her. But when I look at her, I think, wow, what a woman. I have read every single book on her. Ever), women I of her day is so busy, and I really admire people who work, who have a goal, ambition, drive and courage. I think that's what differentiates somebody great from somebody who is just okay.
So what are your thoughts on the Democratic presidential nomination race between Hilary, Barack Obama and John Edward?
LT: I think Hilary is definitely going to be the next President of America.
You're saying she's not just going to win the Democratic nomination, she's going to win the 2008 presidential election?
LT: I think she will definitely beat anybody the Republicans put up. You can't help but admire her! Don't be personal because you can't be personal - how would you know who you like and who you don't like when you don't know them personally, just watch her, read about her, and see how hard she works. Every moment of her day, she's working.
I just read an article about her assistant. She has a Pakistani-Indian Muslim girl working as her top aide, and I'm so impressed that she doesn't care about colour or race. She is truly a modern, intel-national icon, and I think she's one great leaden I loved the Clinton years - I'm a great admirer of Bill Clinton, and I wish our political system would allow the emergence of someone clever like that. We do have reasonably clever leaders ourselves, it's just that when you see somebody like Hilary Clinton, you just have to go, wow.