Feng shui maven Lillian Too bullish on 2013;
bets on banks, plantation stocks
By Kang Wan Chern

The Edge Singapore Weekly Edition
Feb 11-17, 2013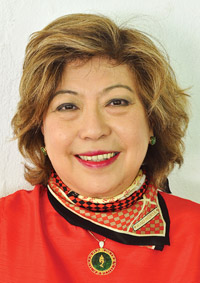 LILLIAN Too paces the stage at the Singapore Expo and addresses the 4,500-strong audience with an earnest fervour. "Oh my god! Can you feel the energy in this place?" she exclaims. "The Year of the Snake is going to be a very good year for many of us; careers will improve, businesses will prosper, stock markets will recover and investors will get richer!" The crowd roars in appreciation and applauds thunderously.
Too is a feng shui practitioner like no other. With an MBA from Harvard University (Class of 1976), she was once CEO of billionaire Quek Leng Chan's Malaysia-listed Hong Leong Credit (now Hong Leong Financial Group) and Hong Kong-listed Dao Heng Bank (which is now part of DBS Group Holdings). She went on to help Hong Kong retail tycoon Dickson Poon build his Hong Kong-listed Dickson Concepts, which today operates more than 300 high-end retail stores in Hong Kong, China, Taiwan and Singapore, including Harvey Nichols and S.T. Dupont.
She later organised the leveraged buyout of Hong Kong department store chain Dragon Seed Group by partnering Indonesian investment company First Pacific, which is controlled by tycoon Anthoni Salim. By 1995, Too had cashed out and retired from the corporate world. She then chose to devote herself to the practice of feng shui, which she says had been of interest to her for years.
"I have always practiced feng shui in every aspect of my life," she tells The Edge Singapore during an interview at the Orchard Mandarin hotel a day after the Feng Shui Extravaganza. "That has brought me good luck in my career." During her time as a banker, she came to know "the top feng shui masters in Hong Kong, China and Taiwan" in her quest to improve her luck and personal well-being by tapping the secrets of Chinese geomancy. "That was when my knowledge of feng shui went up by leaps and bounds."
Too then discovered that her knowledge of feng shui was in hot demand. After leaving the corporate sector, she soon found herself providing feng shui advice and consultancy services to a growing list of clients. Too has written more than 300 books on feng shui, with more than 10 million copies sold across the globe, making her the best-selling author in the field. She also operates a chain of stores that sell her brand of feng shui paraphernalia and fashion accessories. And, she owns wof.com, an online feng shui merchandising and magazine site.
Then, there are events such as her annual Feng Shui Extravaganza, which was held at the Singapore Expo last month. This was the 12th year that the show was held in Singapore, and tickets were priced at $128.
What makes Too such a hit in the feng shui business? With a background in banking and finance, she doesn't shy away from making bold market predictions. In fact, she actively manages her own investment portfolio, focused on equities and currencies. "I am like an investment banker on the side and follow the market closely. I also analyse the political situation and really familiarise myself with what's going on in the world."
The way Too sees it, investors can't succeed by relying on feng shui alone. "To be a successful investor, you must have knowledge of the markets and know when to buy and sell," she says. "But I also have the added benefit of knowing feng shui and being able to read the charts. That gives me a very good feel for the state of the world and global economy."
Too also has a talent for making feng shui principals and ideas easy to understand. "It has a lot to do with common sense and analysis using knowledge of the elements, and is not to be dismissed as superstition," she says. "Feng shui is part of our lives whether we like it or not. Why do you think Singapore is so successful? You are sensitive to the environment; everything is clean and planned based on common sense. That's good feng shui."
Good year for markets
So, what does the Year of Snake hold for investors? Will we be better off than we were in the Year of the Dragon that we are leaving behind?
"Last year, the Dragon Year, was a transformational one where we saw political upheaval and economic shake-ups across China, Europe and the US," Too says. "This year, the Year of the Water Snake, will be a good year for stock markets. And, the Year of the Horse in 2014 will be even better."
Based on her interpretation of the elements and astrology charts, Too predicts that the US economic recovery will gather pace in 2Q2012 and 3Q2013. So, investors could see a spike in Wall Street and global stock markets rising during the period. "This year, the No 8 star, which is a good star, is flying to the Northeast, and that points towards Wall Street, which is in the Northeast of the US," she says. In addition, the No 7 star, also a good star, will be positioned in the West this year, which bodes well for the US. "The No 7 star is sitting on the earth [element] seal, which translates into a recovery in US properties later in the year."
On the other hand, Too expects a less buoyant recovery in China this year. She also warns that there could be a couple of natural disasters occurring in the East, based on the positioning of the natural disaster star. Meanwhile, the European economy is also expected to be unexciting this year. "Looking at the charts as well as my own analysis, we won't see a major recovery in Europe this year; the region still needs to go through more reforms. It could be time to buy ahead of a better year next year, but I think the US is a better bet for now," says Too.
"As far as stock markets around the world are concerned, Wall Street still leads," she continues. "The reason I am bullish on world stock markets as a whole this year is because I am pretty bullish on the US."
From an industry point of view, Too says investors can expect the best returns from wood-element stocks. The plantation sector, for instance, will do well. In particular, plantation owner and palm oil trader Wilmar International is looking attractive, says Too. "Agriculture and crop-related stocks will do very well." Other wood-element stocks are pharmaceuticals, which haven't done especially well for some years; and print publishing, which has been under pressure for years because of the Internet. "This year, wealth can be found in the wood element. Any industry related to wood will do well," Too says reassuringly.
Water-element stocks are also likely to do well, Too says. These include banks and stock exchanges. "The three Singapore banks will do very well this year," says Too, referring to DBS Group Holdings, Oversea-Chinese Banking Corp and United Overseas Bank. "Banks in general will see a very fierce recovery which is already happening now, for example, HSBC." Last year, Europe's largest bank by market value was forced to pay US$1.9 billion in penalties after it was accused of transferring funds for Mexican drug cartels through the US.
Shareholders of HSBC weren't the only ones to suffer ill fortune. Investors in Standard Chartered, which includes Temasek Holdings, would also have been none too pleased last year when investigations uncovered money-laundering activities involving Iran. Stanchart was made to shell out US$340 million in penalties. Since 2009, several other prominent banks such as ING, Credit Suisse and Lloyds have all paid to settle allegations that they moved money for entities on the US sanctions list.
Meanwhile, Too is warning investors to stay away from fire-element stocks, such as restaurants and food companies. Metal-element stocks, which include gold producers and shipping stocks, are also expected to be unexciting this year.
Not all feng shui experts are likely to agree with Too, though. By her admission, banks and stock exchanges are often interpreted by some practitioners to be metal-element stocks. "To me, money is related to water, but there are others who believe banks and stock exchanges, which handle money, are related to the metal element, which is not looking very good this year," she says. "It really boils down to your interpretation of the elements and your knowledge of the market."
Act fast, think long-term
Whatever the case, Too advises investors to pad up their portfolios in 1Q2013. "Now is the chance to buy. I would definitely be fully invested by the end of the 1Q spring months and going into the 2Q summer months, where things will have already picked up," she says. "3Q2013 is going to be very good for returns. But this will taper off towards the end of the year."
In 4Q2013, however, it might be time to start looking at the property sector again to benefit from a bullish 2014 Year of the Horse. "The Singapore government will step in with cooling measures for the property market, but the effects will only be felt for a while," says Too.
None of these insights will protect investors who overextend themselves, though. Drawing on her years in business and finance, she advises everyone to think long-term when investing and not trade too heavily. "I do not believe that anyone who isn't a hedge fund manager can afford to go in and out of the market. If you want to invest successfully, you must also have the power to hold on to your stocks and not be overly geared," Too says. "That's common sense, which is good feng shui."