Lilian Too to share feng shui tips

Eastern Times Extra
31st August 2007

Story by Andrea Tan
Photos courtesy of Lillian Too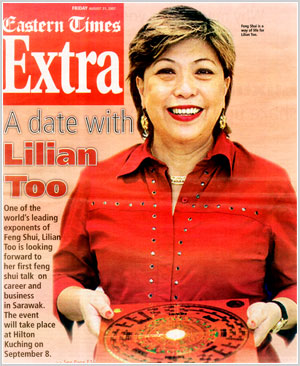 Lilian Too is very much a household name in Malaysia and around the world. One of the world's leading exponents of feng shui, she doesn't need an introduction. Her name is synonymously linked to the world of feng shui, an ancient Chinese practice of placement and arrangement of space to achieve harmony with the environment. This discipline dates back to as early as 4,000 BCE (Before Common Era) in China.

Feng shui is a way of life for Too. Her interest in this discipline began when she was in her twenties and learning the martial arts of kung fu. It eventually became a part of her life.

"In the Eighties, I went to live in Hong Kong and took it upon myself to delve really deep into feng shui. Then in the Nineties, I did tons of research into the subject as I started to write about it. Today, looking back, I am frequently enthralled by just how powerful even simple feng shui can be. It is amazing!" said Too, through an email interview with Eastern Times recently.

Too is set to make her first feng shui talk, organized by Kuching-based event company Ideabox, on career and business in Sarawak this September 8 at Hilton Kuching. Feng shui has clearly helped her throughout her own career path and success in this talk, she will share some very effective feng shui advice with her fans and feng shui enthusiasts in Sarawak.

"Hopefully I can share some knowledge and experiences, make them laugh a little and give them some tips to make their life a little better," she said of her Kuching talk. " I look forward to meet my fans, making friends with them, shaking hands and take picture with them, and making them happy. It's been some time since I came to Kuching so I am looking forward to it very much. Last time, I was here for my daughter's marriage."

Her daughter Jennifer married a Kuching-born architect named Chris Yeo, who's also the grandson of Tan Sri Stephen Yong, in April 2002.

According to Too, feng shui is a living skill, which is rather technical and judgemental, and very symbolic. "But only in, so far, as everything on Earth has energy," she explained. "Different objects give off different energies. And if you really think about it, all of science is symbolic.

"For example, think of the science of numbers. If everything can be reduced to an equation, comprising the symbolism of numbers, and if every equation can be represented by a symbol them it is the symbol that unlocks the meaning. All cultures have all their most ancient wisdoms hidden in symbols. So a square, circle and triangle each means different things and emanates different energies. Just the same with different colours, animals, plants and elements. Crystals are like Earth energy and plants are wood. Water is flowing like wealth: it ebbs and flows. Mountain is like knowledge: so much hidden in the stillness of time."

She went on to explain further that if one had no respect for symbols, one's knowledge of feng shui would be very shallow "like a child whose food intake is less that the salt an older people has taken."

"Fly into China, the source of feng shui and from the time you land in the airport and see any city, you will defect feng shui symbols everywhere, be it protective or enhancing symbols. Sure you can stay they are cultural but feng shui is part of the Chinese culture!"

Too believes Feng shui appeals to people because it is a wonderful living skill that is both easy to learn and practise.

"When you get it right, it brings results fast. I guess that's why we are so successful because many people who come and learn from me/us find it so easy to learn. It's effective. That's why it's so popular. There's no need to get uptight about feng shui. No need to feel it has to be difficult or classical or ancient to make it work. Feng shui belongs to everyone and the subject is so broad with so many different formulas. No single person can possibly know it all."

Too admits that the more she learns about it, the more humble she feels. She always tells her students (she also teaches the skill) to keep their ears open and to be humble because it is the only way their knowledge can get deeper.

The youthful-looking feng shui expert retired from the banking and corporate world at the age of 45 to spend more time with her daughter Jennifer. There was never a plan to start a business of any sort then. She turned to writing books because she wanted something to keep her busy that did not have the rigidity of a nine-to-five job.

"I guess I had done it all by then. I've gone the corporate route and made it already, so I wanted to do something I really love. Hence, writing books on feng shui was a subject I knew a lot about," she said. When she released her first book, 'The Complete Illustrated Guide to Feng Shui', little did she realised that it would become an instant hit and eventually, a worldwide phenomena. The book was the summer bestseller in the US in 1997 and went on to become an international bestseller and was translated into 30 languages.

This was quickly followed up with another book, 'The Little Book of Feng Shui', which hit the number one spot in the UK bestseller's list in 1998. The book had sparked a global interest in feng shui and made Lilian Too a household name everywhere.

"I was in great demand as a writer. So many UK and American publishers came to Malaysia to look for me – Random House, Harper Collins, to name a few. It was dizzying, I tell you. I cried with happiness," she recalled.

In 2005, she also penned a novel entitled 'Empress Wu'. She plans to write more novels in the future, should she be able to find time from her hectic schedule, that is.
The business side of her feng shui empire didn't begin until her daughter's return to Malaysia after graduating from Cambridge. Considering that Jennifer is her mother's daughter, she clearly shares some traits and business sense from Too. Thus, WOFS.com Sdn Bhd was born in 1998.

WOFS stood for World of Feng Shui. It is an online feng shui magazine and have since grown into an extensive feng shui resource and portal. The business has also branched out into feng shui tools and accessories, home decor and jewelry.

"The business belongs to Jennifer. She started it. Now that she is married, she and Chris are building this business together. I'm just helping them because I love them both so dearly," said the proud mother.

Today, Too herself is busy with her own feng shui business, writing and giving talks and workshops on the subject. Though there are many feng shui experts around the world today, she has the honour of being labelled as "the world's modern day feng shui expert/master". But she doesn't fret about competition and such with the others.

"As with every profession and business, when one is successful, one is sure to attract competition. There's nothing new about this. I welcome it as it keeps me on my toes. After all, I love the business of feng shui because it is something that can really help people. I'm so grateful to be able to do this, to do something I love and build a successful business around it and most importantly, able to help make people's live better. That really gives me such a high and keeps me young and energised. So it is not the label that makes me happy, it's being effective in bringing hope and happiness to people," she said.

Yet, her road to success in the business of luck is not always a bed of roses. Even with such wide success and acceptance, she still has a fair share of critics and sceptics. But this does not worry her on bit. She is aware of her critics but knows that there are so few and fair in between that she hardly notice them. On the bright side, she receives plenty of Thank You letters and thousands of positive emails and comments over the past years that it makes it easy to deal with the critics.

"In any case, I am able to laugh at myself and I am not obsessive about the whole thing. I have many other interests. Feng shui is only one of them. I'm always kept so busy. No time to wonder about anything negative."

With so much achieved, does Too see herself retiring from business any time soon? "Never ever. I pray that I am able to work helping people until my dying breath. I will never retire," she said, citing that her inspiration is Lama Zopa Rinpoche, a famous Tibetan Buddhist lama or teacher, who has lived every second of his life benefiting others." I think it is the most beautiful thing I have ever been privileged to learn. He is the most humble and selfless person I know."

Too is living proof of practising what you preach will bring you great benefits. Other than a rising business, her family and personal life is a happy and healthy one as well. She owes it to the fact that she gives meaning to everything she does and being able to help anyone who comes to her. She believes the secret of real happiness is being able to benefit others.

"When you are happy, how can you be old, tired or listless? Each day, I wake up thanking the universe that I am alive to live another day. My life is very precious and there is, hopefully, plenty of life left, in me to be even more beneficial as I grow older," she said.

She added there was no need for a person to believe in feng shui to practise it. It is also easy to get started, like reading one of her basic books. Attending her talk on September 8 may also help too, especially if the focus is on career and business.

She will be sharing the simplest feng shui tip anyone can do to bring good luck for themselves: "Learn the Eight Aspirations Formula. I will be teaching this when I come to Kuching," she said.

Tickets for the ' Enhance Your Career' talk are available at RM88 per person and seats are limited. Registration can be made at Patio: The Terrace Café, Jalan Ang Cheng Ho, Kuching, or call the organiser Ideabox at 082-570000. Inquiries can also be made via fax at 082-570011 or email sales@ideabox-events.com.